COVEDOZA BLOG:
Gabriela Romero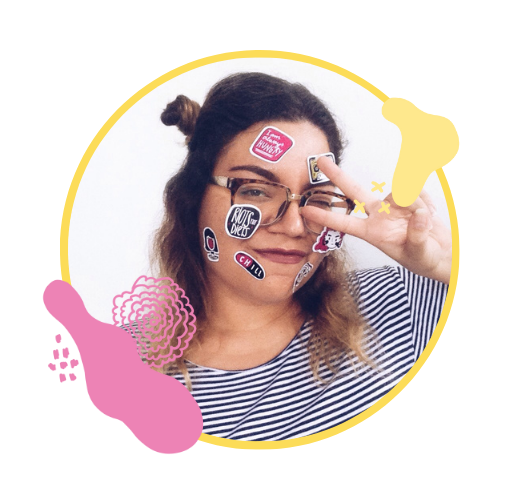 Image by Gabriela Romero (@onedooleperday)
I always wanted to find ways to uplift women artists via the COVEDOZA platform.  To do so, I decided to facilitate artist interviews and I am very excited to kick-off our ARTIST SHOWCASE SERIES with our second interview featuring a very talented (and patient) illustrator named Gabriela Romero, founder of @onedoodleperday and @onewomenstudio.
I came across Gaby's work on behance.net four years ago when COVEDOZA was just an idea and I couldn't believe my eyes.  Her beautiful work is playful, eye-catching and full of color and I think you will be mesmerized by it as well.  
Fun Fact: one of Gaby's commissioned pieces for me is what influenced the rebrand of my business which was formally known as EPLUSJ. So she's a BIG DEAL YA'LL!
Interview
For Latin@s in the U.S., identity is complex and varied. Tell us about your Latinx/a/ and/or Hispanic heritage.
My family is from Ecuador but from different regions of it. I find it funny because it also makes me a mixed child within my culture. Ecuador has a lot of different races and even though I look more pale than my heritage, my father's ancestry comes from Ecuadorian indigenous and my mom from Ecuadorian Montubios.
What inspires you each day?
I think everything that surrounds me. I've been living in South Korea for a year now and I think living in a society so different than my own makes appreciate the little things, like taking the bus or finding myself in a place that I don't know. So these little experiences make me feel lucky and also helps me to create.
How would you describe your work?

I think is a mixed between corky kid's illustrations and pop culture. I'm very vocal about sharing or making illustrations about the things that I like but also about the causes or societal issues that are very close to my heart. My Master's is graphic design and I never thought I would be so excited about working on illustration, but life is always so unexpected and my work as an illustrator has allowed me to do some fun work.  It has also helped me create a cool community that shares the same values as me, believes in my work and supports me, which I think is special and important.
What experiences have influenced your art?
Everyday life so far I guess but I'm also very fond of music as an art expression so perhaps music per se has been the most influential when I started drawing. I'm not a musician but I wish I could be so I try my best to translate my emotions about music into drawings which I find very challenging also because it's a conceptual exercise in the making. Beyond that, I like to share my daily life stories through comics, sometimes through just one drawing, so everything is still very experimental on how I manage to share my experiences. The best I'm trying to do is to create projects about myself that allow me to tell my stories through my art.
How has your culture influenced you and your art?
I'm very new in the world of illustration (in my perspective) so I think I have not had the opportunity yet to tell stories through my culture. Now that I'm living in South Korea a lot of dilemmas and cultural differences had appeared so I'm challenging myself to create a project with this but I'm still on the making.
What would you say to young girls that dream of being an artist or creative like yourself?
DO IT. Whatever you want to do, just do it. I have always been a person that was afraid (still are a little bit) of failure and having this fear blocked me from doing things I always wanted to do. So I not only encourage young girls to go after their dreams, because I know they are fierce and capable, but I also encourage parents, teachers, and communities to help these girls have the opportunity of becoming whatever they wish to be. It is so important to build an environment of support around children, especially young girls, and share resources so every single one of them get to have an opportunity. I think this is a good way to start.
Support Gaby's work:
Portfolio: https://www.behance.net/onewomanstudio 
Instagram: https://www.instagram.com/onedoodleperday/
Twitter: https://twitter.com/onedoodleperday 
Brand Identity/Packaging: https://www.instagram.com/onewoman.studio/
If you're an artist and would liked to be showcased, please connect with us via collab@covedoza.com
COMMITTED TO ETHICAL FASHION
INCLUSIVE AND PERSONALIZED